Happy Sunday, all! First of all, in answer to a couple of questions I received about my banner photo: the name of the piece is "Alphabetissimo," by Papillon Creations.
I mentioned in my last post that I had injured my knee and that I'd be undergoing surgery for it. Sure enough, I accomplished that on August 1. I'll be off my feet and off work for 2-3 weeks total with a total recovery time of about 12 weeks. The surgery went well, but the news wasn't particularly inspiring: I'll have to work hard to get back about 80% of my knee's function, and there will be a knee replacement in my future most likely, and no running. I'm grateful that I've got as much function as I do though, and that I feel better and stronger every day and that I had strengthened my knee going into surgery with two months of physical therapy. And that I like to stitch, because I have been passing the time very nicely with needle in hand, leg up on the sofa/recliner/bed. I've read some also, but mostly stitched. The first few days after surgery, while post-anesthesia and under the influence of pain pills, I stitched small designs on 32 count. When I ditched the pills, I decided to commemorate the time off my feet--so that I'd have a "souvenir" of my surgery (other than the medical bills). So I chose something from my stash that I really liked, had already started but hadn't made a lot of progress on, and would normally take me a year or more to stitch. I'd like to finish it no later than Labor Day weekend. That's a LOT of stitching between now and then, but it gives me something more useful to do than eat carton after carton of Yeungling Ice Cream (if you live in PA, you know what I mean).
One week down, and this is where I stand so far. Jane Clarkson 1856, by Samplers Revisited. I'm stitching her on 40 count Lakeside in Maritime White, using the recommended NPI silks.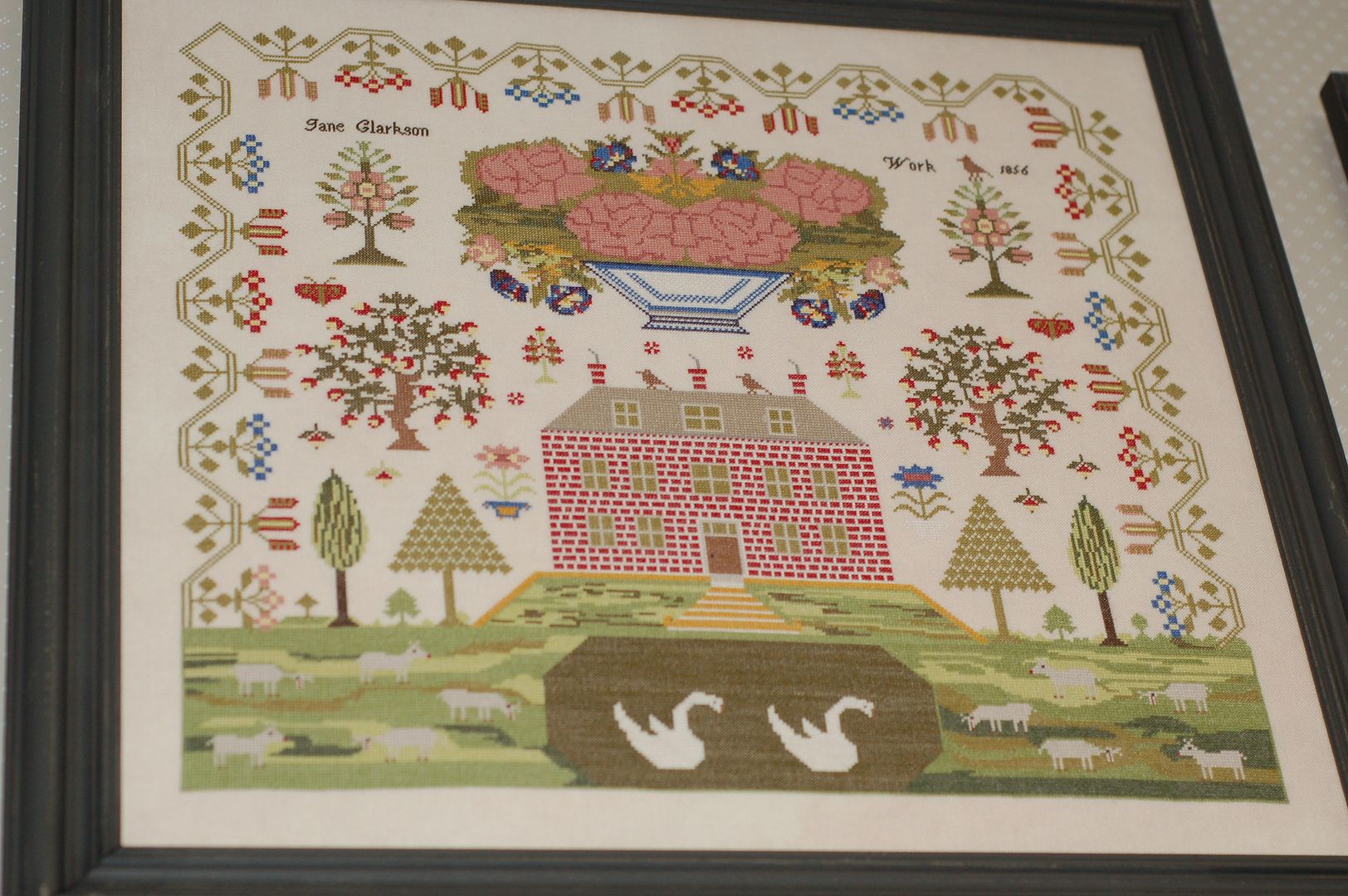 Sadly, since my last post, I lost darling little Elvis, to a stroke. He was the best bunny ever. He was a lionhead with a giant heart in his little three pound body. I adopted him from the Alexandria, VA animal shelter. He hated being in a cage, particulary since he was alone. The first time I saw him, I fetched him out of the cage and he licked my nose like a puppy. He loved being petted and cuddled.
Best wishes to all for a wonderful week ahead.